When it comes to buying school furniture, shipping costs can feel like a real bummer, especially on a limited budget. After populating your shopping cart, you head to checkout and get your first glimpse of the freight charges for your order. Hopefully, you were prepared for this moment. If you weren't, you might experience a case of sticker shock. Unfortunately, the size and weight of a typical school furniture purchase makes shipping the items a costly endeavor. Most items are too big or heavy to ship ground carrier like FedEx or UPS, so it'll be necessary to ship the items using a freight carrier.
It's never a bad idea to contact your dealer and inquire about what services are included in your shipping charges. For one, understanding how your order will ship will prepare you for delivery day. It will also help you understand why your shipping costs are what they are. Communicating directly with your dealer about the shipping arrangements for your order may also reveal that you need additional services or have too many on your order.
In some cases, your order might include special delivery services. Special delivery services can be extremely valuable--even necessary, but they also drive up your shipping costs. Which brings us to our topic: The lift gate service charge.
What is a Lift Gate?
A lift gate service is a special delivery service added to some LTL shipments. The lift gate itself is a mechanical platform attached to the back end of some delivery trucks. The driver operates the lift gate to bring palletized or oversized products down to ground level from the bed of the truck. Not all trucks have lift gates, so most freight carriers will need to know ahead of time that your shipment requires a lift gate before loading your order.
How do you know if you need a lift gate service?
A lift gate service is usually necessary when the product being delivered is too heavy or too large to carry down to ground level by hand and there is no raised loading dock nor forklift on site. Many shipments are palletized and the truck drivers are equipped with a pallet jack that allows them to move pallets to the tailgate of the truck. At that point, the pallet(s) need to be unloaded with a fork lift. Or if the school has the manpower, they can break down the skids by hand on the truck and unload the individual boxes/pieces from the tailgate of the truck. If there is a loading dock at the delivery site, which is the best-case scenario, the pallets are rolled right off the truck by the driver onto the loading dock. For obvious reasons, most schools are not equipped with a raised loading dock nor a forklift: They are places of learning, not warehouses. And so the lift gate service often becomes a necessary added-on shipping cost for orders like cafeteria tables, outdoor picnic tables, and large fire files. Trust us, you don't even want to attempt to hand-lift a 700-pound fire file off the back of a truck.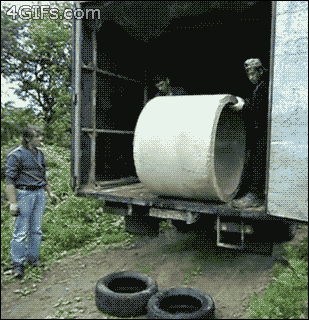 How much does a lift gate service cost?
Neither your dealer nor the manufacturer of the products ordered can name the cost of the lift gate service. It's a charge dictated by the carrier and it varies carrier to carrier. Some charge as little as $50, others as much as $150. On average, they cost between $75 and $100.
Why are lift gate services an extra charge at all?
Remember how we said that "some" trucks have lift gate mechanisms attached? It costs a freight carrier extra to purchase, maintain, and operate a truck with a lift gate. Operating a lift gate means extra labor for the driver, extra costs for operating and maintaining the lift gate mechanism, and using trucks equipped with a special mechanism outside of the standard. Keep in mind that the service not only includes the special equipment, it also includes the delivery driver moving your pallet(s) or pieces to the ground level. Note that it is still your responsibility to move your product inside your building. If you need inside delivery services, that's a different service altogether that can be included in your shipping charges (Order size restrictions apply).
What if I can't tell whether or not I need a lift gate service?
If you're unsure, it's best to select the lift gate service at checkout so you're covered. You wouldn't want to suffer both a re-delivery fee AND a lift gate charge on top of your original shipping charges if the driver is unable to deliver because a lift gate service was necessary after all. Your best option if you are unsure is to call your dealer and speak to a representative who can recommend whether or not to order the lift gate.
Some final parting tips:
If you're unclear on whether you need a lift gate service, contact your dealer to discuss it before you finalize your order.
Once your dealer provides the shipping information for your order, like carrier name and tracking number (sometimes referred to as the "pro" number), you can track your shipment and begin planning ahead for their arrival. You can usually see the "estimated" arrival date on the carrier's website but it's recommended that you call the delivering freight terminal to try to schedule a specific delivery date and window. This will help avoid unexpected deliveries at inopportune times.
Share this: